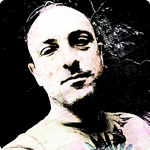 Markos is a professional, extremely detail-oriented, and efficient designer with thirteen plus years of experience. An innovator who enjoys the constant challenge of adapting to and balancing the needs of the client with the demands of the bottom line. An expert in meeting time and budgetary constraints while producing professional and creative work.
Focuses on the craftsmanship of graphic communications in print and in digital media. Experience includes traditional and interactive web presence solutions, print and electronic media advertising, and conceptual brand identity.
Specialties
Mac OS & Windows Platforms
Adobe CS [Photoshop, Illustrator, Dreamweaver, Flash, Fireworks] HTML, CSS, JQuery, JavaScript, WordPress, QuarkXpress, PageMaker, Microsoft Office
Apart from interests related to his profession, Markos is an avid long-distance runner and music lover.
If you would consider my services to be useful for you, feel free to contact me.